---
Fontana Public Library is a member of the Lakeshores Library System, which consists of 15  libraries in Walworth and Racine counties.  We are located at 166 Second Ave, which is the lower level of the Fontana Village Hall (on the corner of Hwy 67/Valley View Dr. and Second Ave).  Parking is available on Second Ave, with handicap parking in the village hall lot and elevator access through the village hall lobby.
HOURS:
Monday – Friday               9-5
Saturday                            9-1
Sunday                       CLOSED
---
THE POWER OF WORDS!
The library recognizes Banned Book Week September 24-30, 2017.  Your words have the power to challenge censorship.  Out of the hundreds of challenges ALA records every year, only about 10% of the books are removed from communal shelves, thanks to local literary champions such as librarians, students and patrons.
---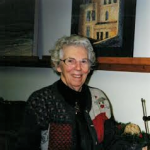 March 9, 1925-March 9, 2017
Grace Mary "Sue" Koepsel served as the director for the Fontana Public Library for 50 yrs.  She was especially proud of her work spearheading a renovation of the library in 80's.  Sue served as the village historian after retiring from the director's position, and was named Fontana Citizen of the Year.
We are honored that the family asked that memorials be made to the library in Sue's name, which we will be used for further growth and development.
http://www.gazettextra.com/20170312/grace-mary-koepsel-walworthfontana
---
HOLIDAY CLOSINGS:
Memorial day       May 29, 2017
 Tuesday,  July 4, 2017
Labor day           September 4, 2017
---
Kenosha County has joined the SHARE consortium. Patrons with an active SHARE library card will now be able to use it at the Kenosha Public Library and branches and Community Library in Salem.
---
Wi-Fi Available — The library also offers 8 public computer stations with printing capabilities.
https://meet.libbyapp.com