Library Hours 9-5 Monday-Fridays 9-1 Saturdays
Curbside pickup available during library hours
The Fontana Garden Club invites you to grow with them. They have set up a Seed Library, which is located in the magazine area of the library. Along with the seeds, we have a variety of FREE books to help those "green thumbs". The Seed library is a self-serve, self-sustaining exchange program. Take home seeds-plant them-watch them grow! At the end of the season, return seeds to the library for next year's stock. By saving seeds as a community, we help create local seed stocks that are acclimated to our climate.
Readers' Most Anticipated Books of Summer
Welcome back, once again, to the perennial tradition of summer reading. Thanks to display-technology advances in e-book readers, you can bring entire libraries of books out into the bright sun. Instead of being indecisive on the couch, you can be indecisive in the sand. Progress! There's no stopping it.

This year's batch of summer books is especially rich and diverse, and occasionally quite weird. Look for new titles from celebrated authors including Silvia Moreno-Garcia, Ottessa Moshfegh, and Taylor Jenkins Reid; buzzy debuts from Katie Gutierrez, J.M. Miro, and Gina Chen; and some intriguing wild card options concerning Colombian fortune-tellers, genetically designed posthumans, and 19th-century divorcée destination vacations.

As always, the books below are sorted by genre and largely determined by you, the loyal Goodreads regular. Titles are selected by tracking early reviews and crunching the numbers on how many readers are putting these books on their Want to Read shelves.

Be sure to add anything that catches your eye to your own Want to Read shelf, and let us know what you're reading and recommending in the comments. For the entire article, click on link: https://www.goodreads.com/blog/show/2284-readers-most-anticipated-books-of-summer
QUICK LINKS: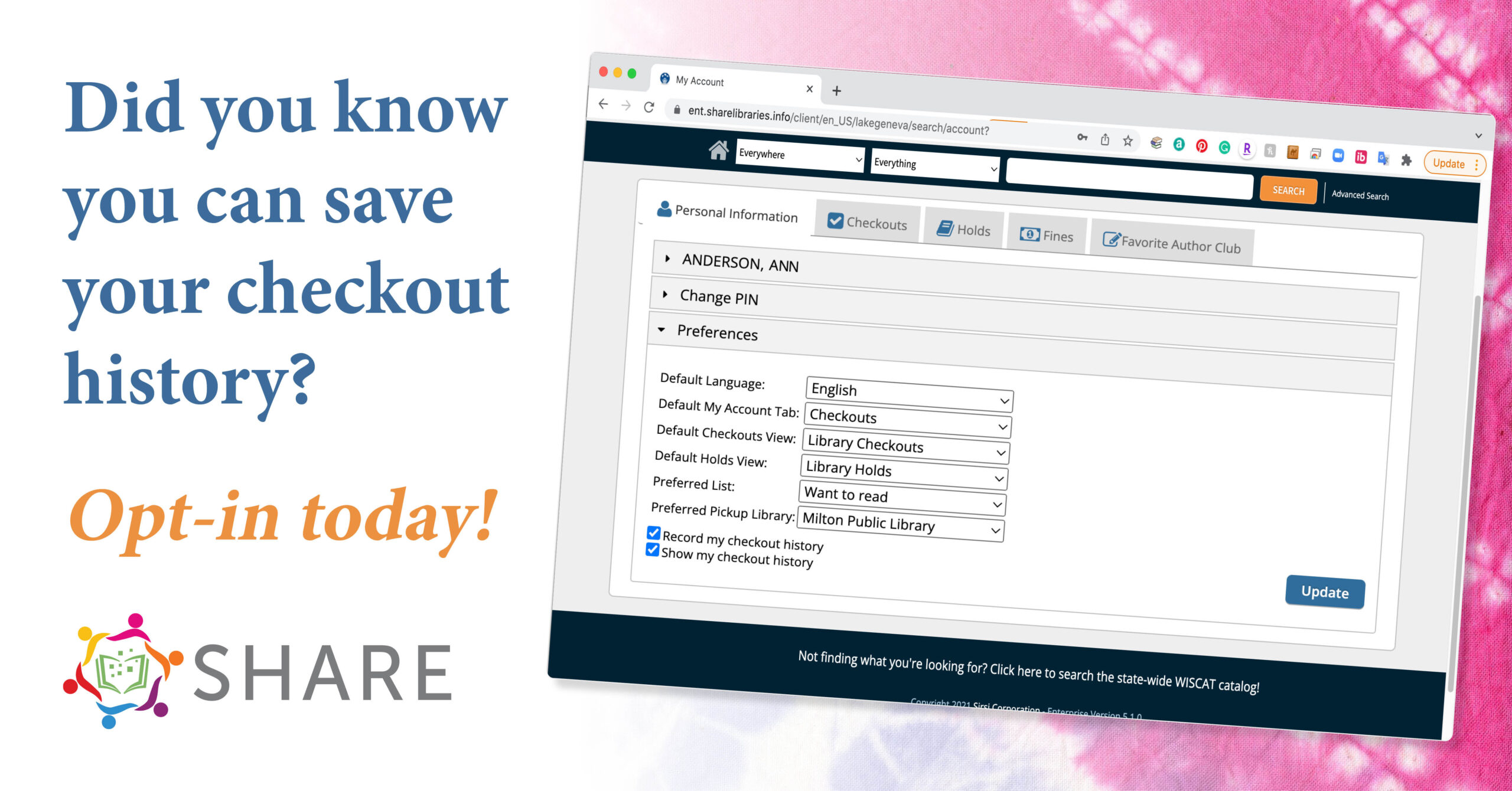 Badgerlink from personal interest to educational research, BadgerLink provides Wisconsin residents with licensed trustworthy content not available from free search engines. https://badgerlink.dpi.wi.gov/
Novelist from reading lists to reading challenges
---
BOOKPAGE WILL NO LONGER BE AVAILABLE FOR ONLINE VIEWING. PAPER COPIES WILL BE AVAILABLE AT THE CIRCULATION DESK.
---
Daniels Funds for Friends program
PLEASE SAVE AND DONATE YOUR DANIELS FOOD GROCERY RECEIPTS.
Daniels Foods will donate 1% of the total from receipts collected. Receipts need to be donated within 4 months of the purchase date to be usable. Money received from Daniels' go toward library programs and events.
Contributions for 2021 were $1456.99.
THANK YOU FOR YOUR SUPPORT.