A variety of GRAB & GO kits for all ages will be available in the children's area. Kits are limited and on a first come basis. Free coloring pages and handouts are available throughout the year.
Hildebrand Nature Conservancy trail–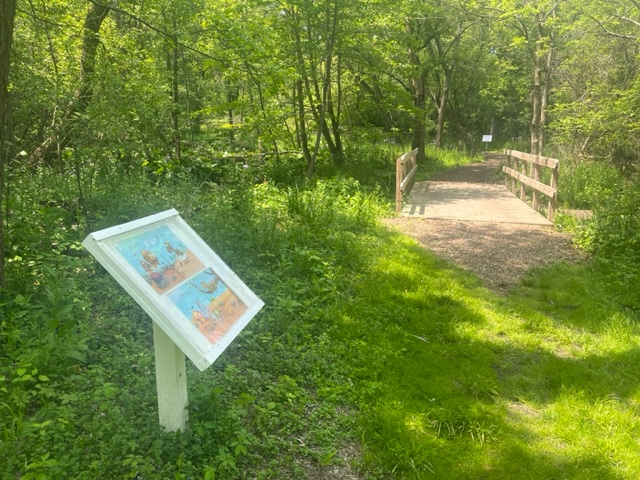 The storywalk is done for 2023. We will post stories again next spring, when the weather permits.
The stories begin at the Mill House Gazebo, which is across from the Fontana Elementary School, and finish right before the last bridge toward Mill St. Get out and enjoy the sounds of the running creek, examine the plants starting to pop out, and, most of all, reading our stories.
Story wagon performances for 2023–
Thank you to the families and staff of the Big Foot Rec Dept, who attended our programs. Thank you to Kylie from the Racine Zoo. Most of all, a special thank you to Steve Torrez and the staff at the Fontana Elementary School for their support and use of the school this summer. Don't forget to check out what the school has going on for the rest of the summer.
The second week of the summer story wagon brought us Lil Miss Ann. There was a lot of songs and dancing for the whole group. Thank you to the Fontana Elementary School staff and community for your support.
We kicked off our summer story wagon schedule with magic of Zack Percell. Thank you to the Fontana Elementary school staff, Big Foot Rec Dept staff and community for your support.
Share a read along with your little reader…
https://www.youtube.com/watch?v=5eBXQN7Iv2A
___________________________________________________________________________