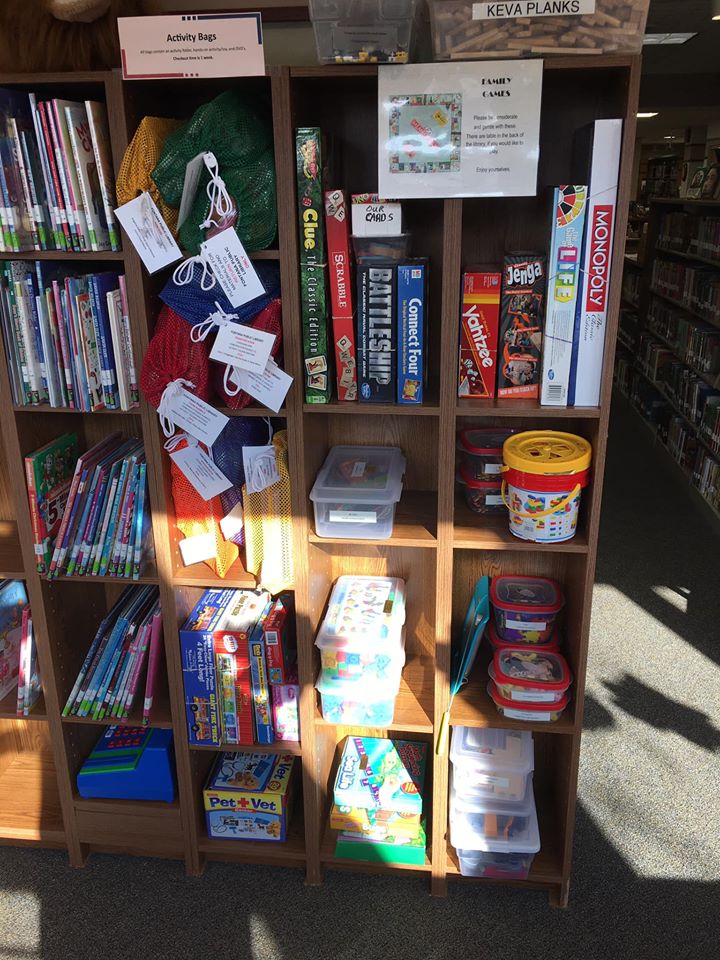 Activity bags for checkout

Sample of an activity bag

Newbery winners and Battle of the Books are at your fingertips.

Holiday picture books are now organized and ready for checkout
Another Storywagon season end-
June 18–Snake Discovery: Join Emily Roberts as she slithers into the world of reptiles and discover how unique they are! We'll be 'traveling' around the world to meet reptiles from every continent they're found on. Learn what a legless lizard is, watch a snake eat, hold a large boa constrictor, and more! There will be a large variety of scaly critters to meet and learn about at this event. This hands-on program is fun for all ages.
June 25–Great Scott-Magician: Magician Scott Obermann gets ready to blast off with his "Make Space for Reading" show. Aliens, space ships and a ton of exciting magical fun await.
July 9–Colossal Fossils: Wooly mammoths. Saber-tooth cats. Giant bears. These are just a few of the dangers that humans may have encountered when they first set foot on Wisconsin soil over 15,000 years ago. Join Sean Sullivan, "The Mammoth Hunter", as he tells the stories of these people and shows how they survived this harsh environment. See real working tools and musical instruments that are based off of historical artifacts, and touch the bones from some of the most iconic Ice Age animals that ever lived. This incredible program will captivate the minds of every age.
July 16–Fox and Branch-Music duo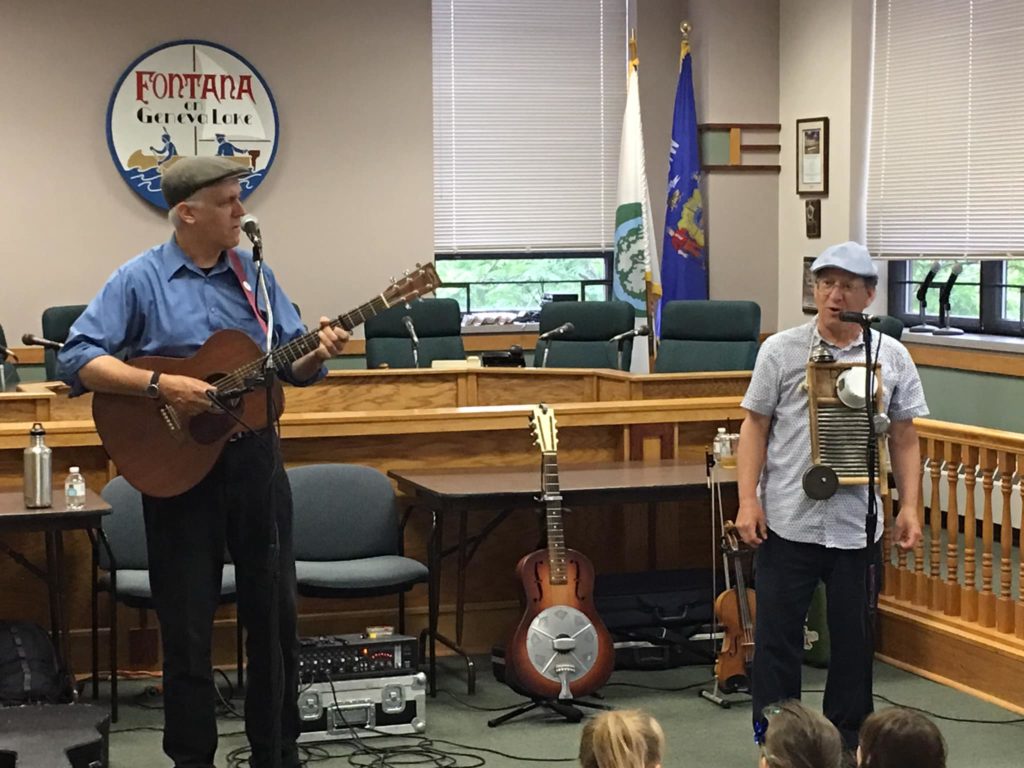 July 23–Racine Zoo: Meet wild animals that live in our own backyards. Learn how these animals survive and how we can act to help conserve their homes.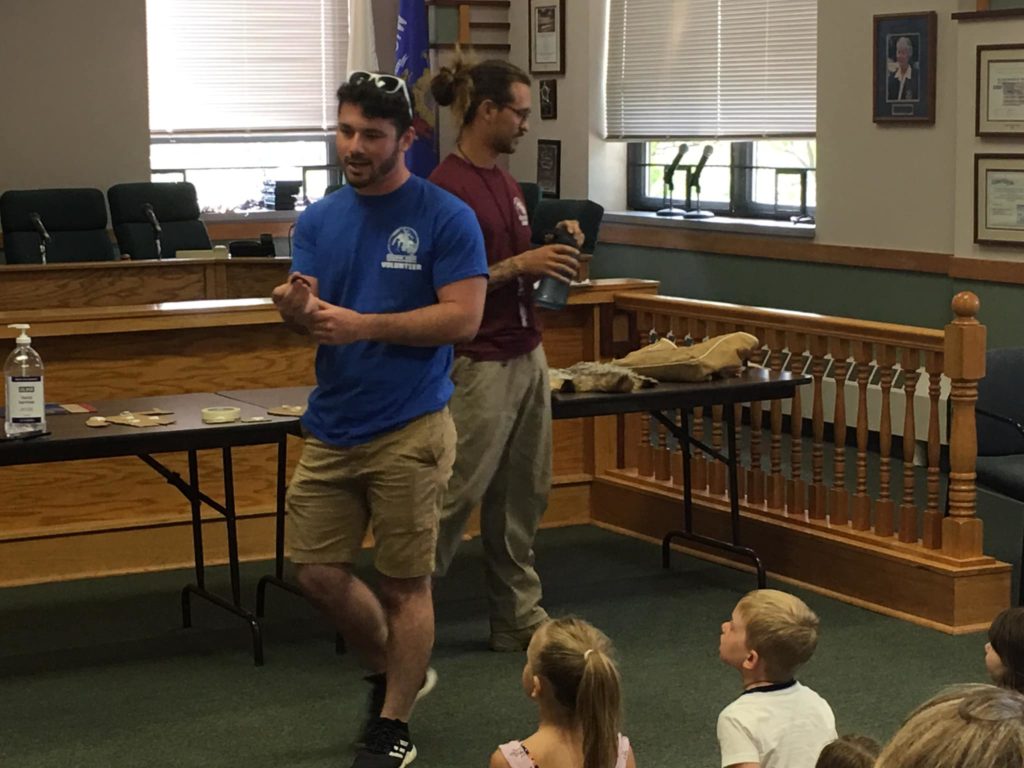 MakerZONE
Imagine it!

Create it!

Take it!
We now have a "MakerZone" set up for the children ages 3 and older. It will feature STEAM/STEM projects, Zentangle, paper crafts, weaving, clay art and options to create their own pieces of art. Unfortunately, there will be limited availability with some of the projects, but we will still many to choose from.
MakerZone is open Monday-Friday 10-2. This area is a shared space and days/hours are subject to change. Please call the library at 275-5107 with any questions.
SAMPLES in the MakerZone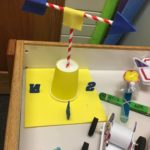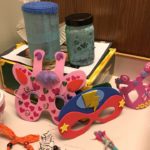 The 4K class were thrilled with their reading buddy prize for their class entry of FROGNANDO. Well done!


3K-4K Library Visit 2018-2019
Once again, Fontana Elementary 4K class and 3K Preschool enjoyed at lovely walk to the library. Every new school year, we extend an invitation to these teacher's to visit our library. We love being able to introduce a new generation of children to the library, and give the parents/guardians an opportunity to see what the library has to offer. They were treated to a snack and stories by Miss Jodie. Afterwards, the children enjoyed playtime at our Imagination Station and, of course, we had blocks, blocks and more blocks. Thank you to Mrs. Nelson, Mrs. Sullivan and all the parent chaperones.
Spring 2019–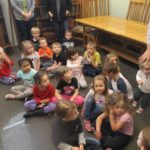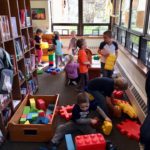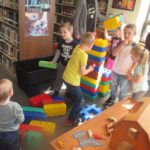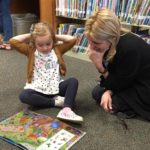 Fall 2018–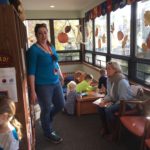 3 yr & 4K students from Fontana Elementary School 2017-2018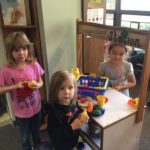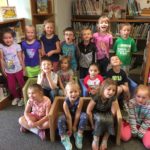 2018 "Libraries Rock" Summer Storywagon

Another summer storywagon has come to an end. Thank you to Lakeshores Library System for providing our entertainment. Also, thank you to Ms. Murtell, Ms. Selvey and Ms.Gaulke and the summer school students, and Sherry Oja, Inspiration Ministries, and the residents for their support and attendance.
June 19-Leonardo Music – Leonardo is a Parents' Choice Award winning family musician writing songs that entertain, educate and empower audiences of all ages and abilities. He performs nationally at schools, libraries and special events bringing a high energy, interactive concert that is a celebration of possibilities through music and movement.
June 26-Libraries Rock Dance Party-Ms Amy brought music and dancing today for the children.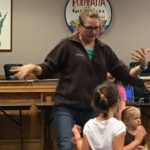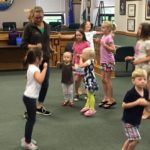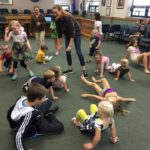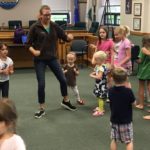 July 10-Kidsplay – Hilarious and highly interactive "Roll & Rock" concert.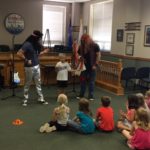 July 17-Moogician – Todd Charles(aka "The Moogician") has been a comedy-variety entertainer all of his life. His original and refreshing material that combines magic, juggling, music, and comedy, has taken him all over the world, performing in theaters, fairs, festivals, comedy clubs, and on cruise ships.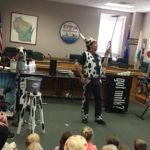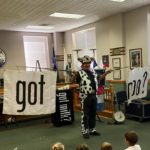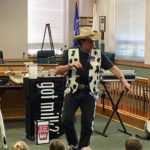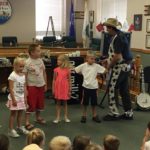 July 24-Snake Discovery – A reptile program that includes "Totally Turtles" & "Snake, Rattle & Roll"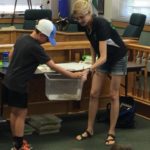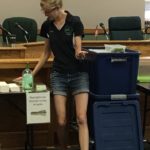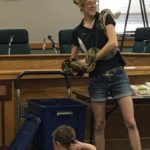 ---
---
2017 SRP – BUILD A BETTER WORLD
Thank you to LAKESHORES LIBRARY SYSTEM, performers, Fontana Elementary summer school, and all the families who supported our 2017 Summer Storywagon.
Circus Boy – Bobby Hunt will entertain the audience with balloon creations and juggling June 20, 2017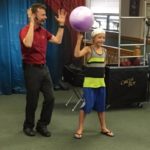 Michelle's Magical Poodles – Enjoy fun and quirky dog tricks with an educational twist June 27, 2017
Snake Discovery – A reptile program that includes "Totally Turtles" & "Snake, Rattle & Roll" July 11, 2017
Ben's Bubble Show – Ben Jimenez creates beautiful and mind boggling soap bubble sculptures July 18, 2017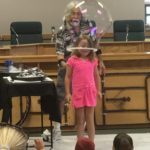 Kidsplay-Interactive theater – Whether they're bold superheroes without powers or master chefs trying to teach the 3 C's of cooking, this hysterical duo is entertainment for all ages
July 25, 2017
2016 SRP presents
ON YOUR MARK, GET SET…READ!
Thank you to LAKESHORES LIBRARY SYSTEM, performers, Fontana Elementary summer school, and all the families who supported our 2016 Summer Storywagon.
June 21-Chris Fascione–combines humor and imagination in his storytelling and juggling
June 28-Scott Obermann-"Great Scott, the nutrition magician" combines magic, ventriloquism and a message on a healthy lifestyle
July 12-Steve Schindler, from Science Alliance, an expert on all things reptilian
July19-Jack and Kitty, musical duo
July 26-Kay Weeden, bilingual storyteller