Creativebug is the number one inspirational resource for DIY, crafters and makers. Lakeshores library patrons, with a valid library card and pin, can now access Creativebug free of charge. Creativebug.com has thousands of award-winning art & craft video classes taught by recognized design experts and artists. Click on the link and follow the prompts. HAPPY CREATING https://www.creativebug.com/lib/lakeshoreslib
Are you a doodler or have a young one that can't put the crayons away for too long? Last year, the library had a Doodle Journal program. We decorated the covers. We had stamps, stickers , markers and other supplies to help decorate the them and fill the inside. If you attended that program but haven't continued to use it or for those of you who need ideas to start your own Doodle Journal, checkout out CREATIVEBUG's class series on doodling. We will continue to highlight classes throughout the summer. Keep those creative juices flowing.
https://www.creativebug.com/classseries/creative-doodling/creative-doodling-get-your-doodle-on https://www.creativebug.com/classseries/creative-doodling/creative-doodling-get-your-doodle-on
_________________________________________________________________________
Lakeshores Library System is offering free access for CREATIVEBUG classes to patrons with a valid library card. https://www.creativebug.com/lib/lakeshoreslibEarlier this week we posted Doodling classes offered from CREATIVEBUG as inspiration for anyone who participated in our Doodle Journal workshop last year or anyone wanting to begin an art journal. CREATIVEBUG is offering a variety of art classes for all ages. I ran across this class offered by Faith Hale on Altered Book Pages. I enjoyed her tips and ideas to use in my journals. https://www.creativebug.com/classseries/single/altered-book-pages-2-28-19
___________________________________________________________________________
A couple of weeks ago I posted how to make burlap flowers. As promised, here are a couple of ideas on what to do with the flowers once completed. The first idea was a "LOVE" plaque. Supplies needed were- old frame of your choice, inspirational stickers or printed words, white glue, brown acrylic or watercolor paints, and burlap flower. I glued the backing an old 6×6 picture frame with old book pages. Then I tore the edges of the inspirational before sticking it down. To make it look a bit more vintage, I gave it a light brown paint wash over the entire piece. Once that dried, I hot glued a burlap flower in place. It makes a lovely gift for a certain someone in your life. Earlier this year, we asked for donations of corks and buttons. With these 2 items, I created a cork wreath that I embellished with a variety of buttons, mini burlap flowers and 3 burlap flowers that we made earlier. Supplies needed were-wine corks, styrofoam wreath (you can use any type of wreath form but this is what we had on-hand), hot glue gun, buttons and burlap flower(s). I did "dry" fit the corks to get an idea on the layout before hot gluing them in place. Depending on the size or style of the wreath form you have, you might have a completely different look. I chose to use 3 different burlap flowers, which I secured with hot glue and tucked corks in areas so the foam couldn't be seen. Note-I did cut some corks in half which made it easier to fill gaps. Finally, I glued a variety of buttons on for decoration. I'll add a piece ribbon or twine to use for hanging and I'll have a lovely wreath for my front door this fall. I've included the burlap flower video link again. I hope you get a chance to try one of the flowers and create a project of your own with them.~Ms Jodie https://www.facebook.com/DiyDreaming/videos/678352109408338
Rainy day art project for the whole family.
We purchased a Mandala stencil set (which are recommended for rock painting) online, acrylic paint pens (which come in a variety of thicknesses) and canvas or board. After tracing a design, we did a variety of dots and filling in areas. You can be as creative as you want. Have fun.
*Note-my 7 yr old grandson did his on the board, which I did spray seal afterwards. On my samples, I decided the white was too stark looking so I painted a little color with a very thin watercolor paint that the kids had in their art supplies.
~Ms Jodie
Over the last 6 weeks, I have struggled with cracked and sore hands. I came across this recipe and decided "WHY NOT TRY?"
I had to rely on ordering ingredients online. I was not able to get Raw Shea Butter, but decided to try it without. Also, I was only able to get a Roman Chamomile essential oil.
I was pretty happy with the outcome and will try making another type in the future. It is definitely has an oilier feeling and you need to be careful after applying it. Putting it on at night before bed seemed to be the best solution for me.
I hope some of you might feel a little adventurous to try the recipe and share your results~Ms Jodie
All programs and events are currently CANCELLED until further notice

Upcoming FREE adult programs:
Please watch for updates on dates and times of programs, which will be available on this page, Facebook, and in the library.
Adult Coloring —Mondays from 1-2pm [please check Facebook for changes or cancellations]
Knitters will reconvene Wednesday, January 22 @ 6pm and continue to meet the
2nd & 4th

Wednesdays of the month through May. Mark your calendars. Newcomers welcome
---
See what they've done….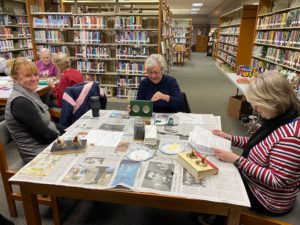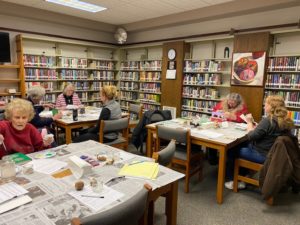 Participants enjoyed getting ready for spring with their Paperwhite holders which was held March 4th.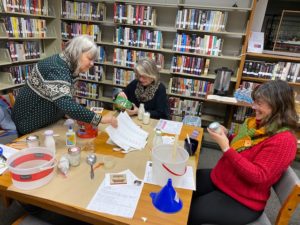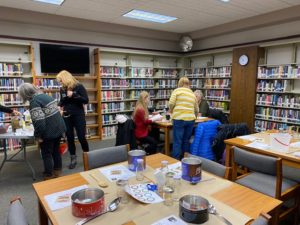 ---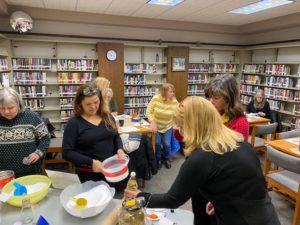 Participants enjoyed learning about Hygge and creating bath salts during Get Crafty with Sally Lee on January 15, 2020.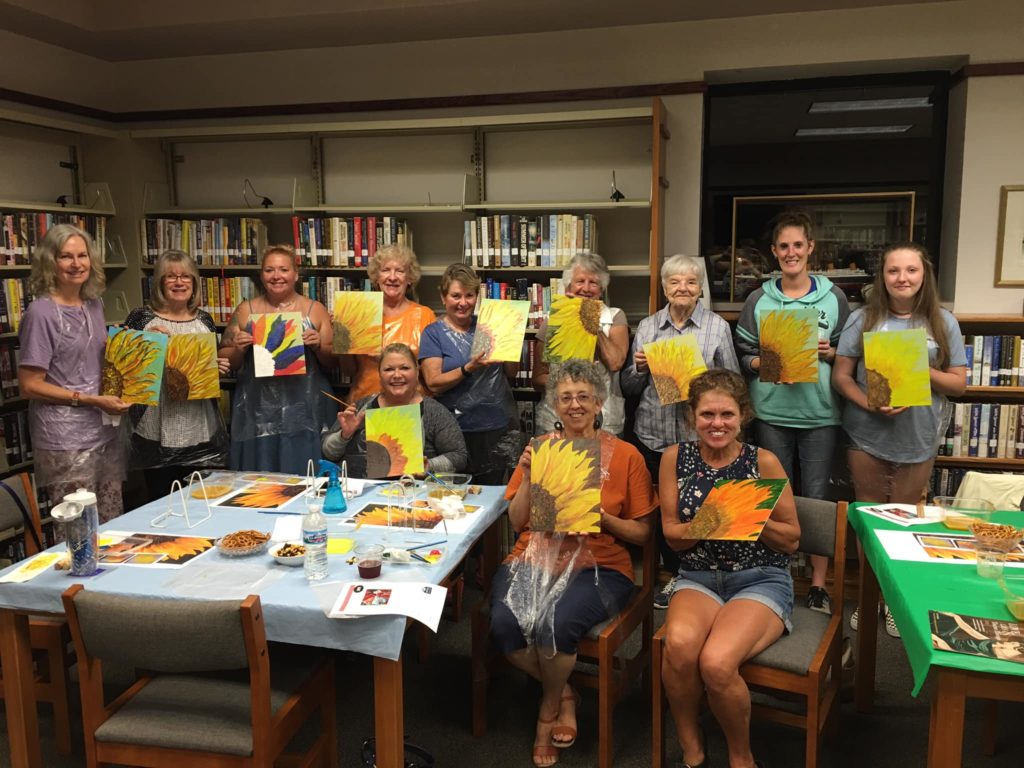 GLAF Art Displays
Members of the GENEVA LAKE ART FOUNDATION will have their artwork on display for a monthly exhibit